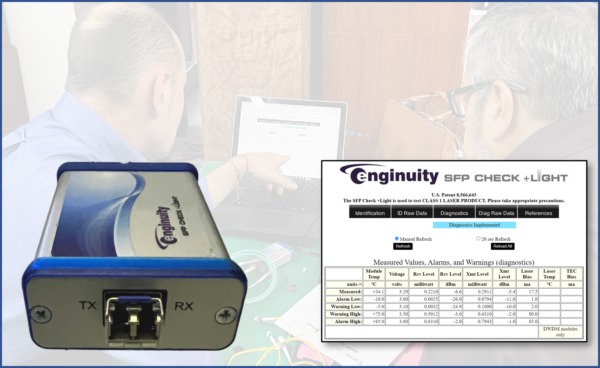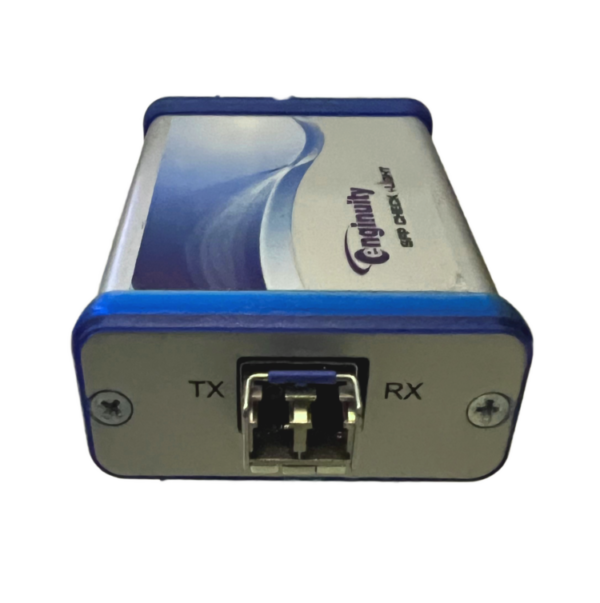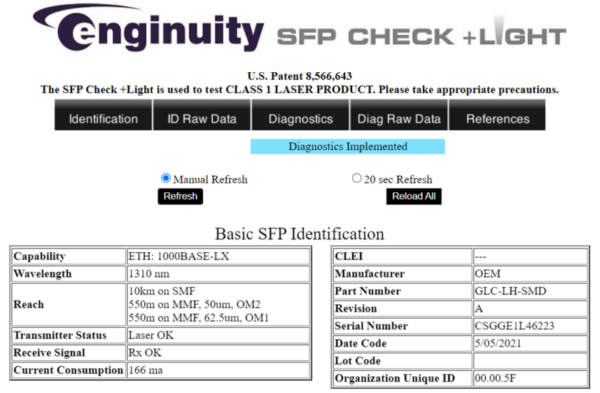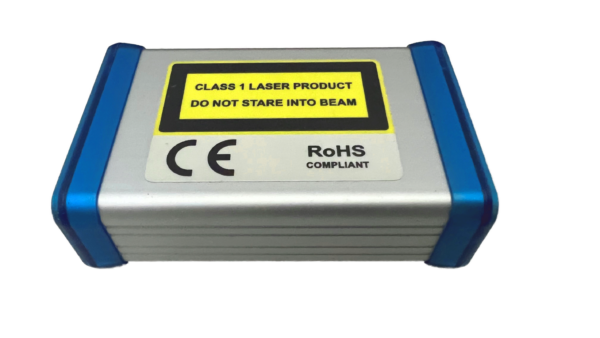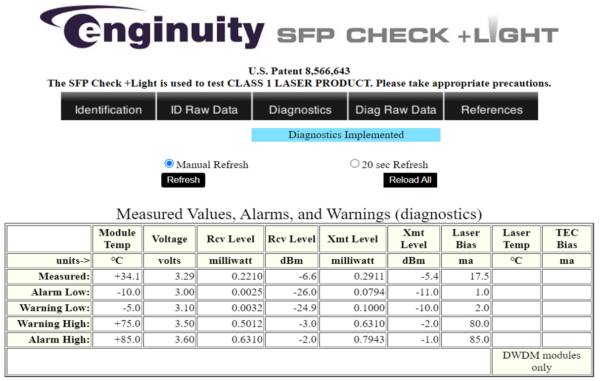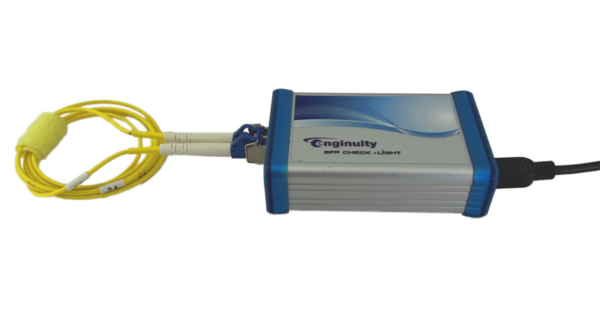 SFP CHECK LIGHT™ TESTER
SENKO Part Number: AFT-G-SFP-TESTER
SFP+ identification
Live TX & RX diagnostics
Verify warnings and alarms
Email us at sales@senko.com or talk with your local SENKO Sales Representative for pricing.
SENKO ADVANCED COMPONENTS has teamed up with Enginuity Communications to offer this innovative tester called the SFP CHECK LIGHT™ TESTER for supporting SFP and SFP+ transceivers. The SFP CHECK +LIGHT reads the internal memory of the SFP and displays details such as the wavelength, description, and range. Loop the transmit signal of the SFP back on itself using a LC loopback or LC jumper to verify the transmit and receive optical power levels.
Do you have SFP/SFP+ transceivers coming back to the warehouse and you're unsure they are still functional, or even what type of device they are? Use the SFP CHECK LIGHT TESTER to quickly verify the transceiver operates so you can redeploy the asset instead of buying additional units. The SFP CHECK LIGHT™ TESTER can be used as a light source and paired with an optical power meter. Terminate an incoming assembly into the SFP inserted
into the SFP CHECK LIGHT™ TESTER and display the incoming optical power level. For dark fiber qualification, plug an SFP into the SFP CHECK LIGHT™ TESTER to provide a light source. Use an optical test set to measure the optical power levels along a fiber optic path. Matching the wavelength of the SFP to any CWDM or DWDM splitters in the path enables a complete qualification at varying data rates.
| | |
| --- | --- |
| Part Number: | AFT-G-SFP-TESTER |
| Singlemode Loopback Part Number: | LPB-LC-SA00 |
| Multimode Loopback Part Number: | LPB-LC-OM3-00 |
| Module Temperature: | C° |
| Voltage: | volts |
| Rx Level: | mW + dBm |
| Tx Level: | mW + dBm |
| Laser Bias: | ma |
| Laser Temp: | C° (DWDM only) |
| Thermo-Electric Cooler (TEC) Bias: | ma (DWDM only) |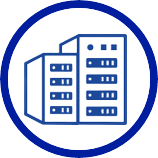 Hyper Scale Networks

Network Installations

Fiber To The Home FTTH

Fiber To The Antenna FTTA and Distributed Antenna Systems DAS

Multiple Service Operators MSO