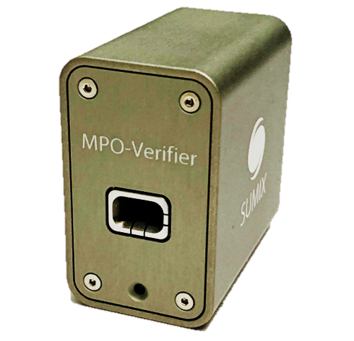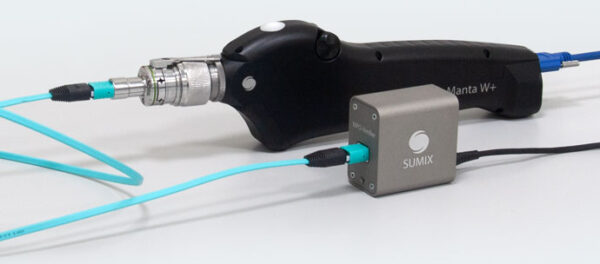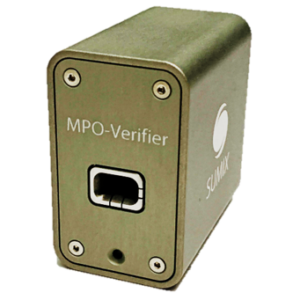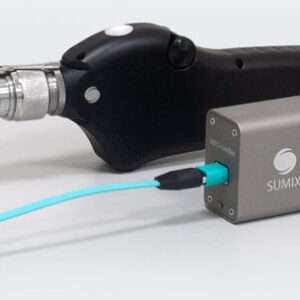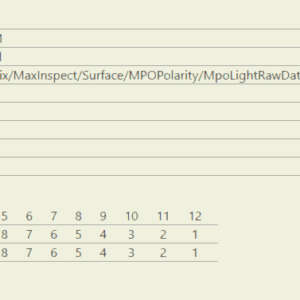 MPO Verifier Module
PART NUMBER:

MPO-VERIFIER
12F (center key) & 16F (offset key) MPO
Pinned (male) & unpinned (female)
Flat and angle end faces
Email us at sales@senko.com or talk with your local SENKO Sales Representative for pricing.
Parameters
Specifications
SENKO PART NUMBER:

MPO-VERIFIER

Primary Use:

MPO and MT assembly polarity and continuity testing

Dimensions:

32mm (W) X 53mm (L) X 53mm (H)

Applicable Scopes and Interferometers:

MANTA W+

MANTA HM

MAX-QM+

MAX-QUANTUM
The MPO VERIFIER module is a non-contact testing accessory is an accessory for use with the MANTA HM, MANTA W+ and the POLARIS benchtop inspections scopes and the MAX-QM+ and MAX-QUANTUM interferometers for doing end-to-end assembly polarity and continuity testing of MPO and other MT based assemblies. The MPO Verifier module works for 8, 12, 16, 24, 32, 48 fiber MT and MPO assemblies for both multimode (flat polish) and singlemode (angle polish) end faces with and without the guide pins. The module's opening accepts both the center and the offset MPO orientation key. The MPO VERIFIER module includes reporting for MPO assembly Polarity including:
Method A (Key Up to Key Down with Straights Through wiring),
Method B (Key Up to Key Up with Straight Through wiring)
Method C (Key Up to Key Down with Crossed Pair wiring)
PLUS the ability to report on customized polarity methods.
Cable assembly production areas making and testing MPO and MT assemblies
Transceiver manufacturing
Network installations
Incoming inspection and quality labs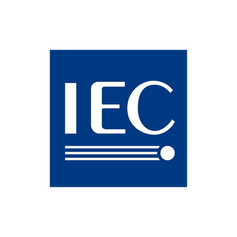 The modules uses an internal light source that moves in a set sequence to light up the fibers in the arrays. The MAXINSPECT software in inspection scope or interferometer detects the incoming light for verifying channel continuity and polarity. The software will verify if the polarity method. The MAXINSPECT software comes with Methods A, B and C by default and comes with a the ability to enter in a customized polarity profile.
No, the MPO Verifier is compatible with inspection scopes made for MT inspection and interferometers made for MT anomaly detection running the MAXINSPECT reporting software. This includes the:
MANTA W+
MANTA HM
MAX-QM+
MAX QUANTUM