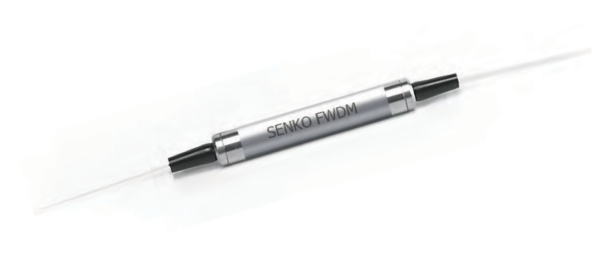 Filter Based FWDM 1310/1550nm
SENKO's Wavelength Division Multiplexer (WDM) is based on thin-film filter technology, and has two types of isolation which are standard isolation and high isolation. This component us used to combine or separate 1310 and 1550nm band signals. This product is ideal for high-power Optical Amplification Systems and WDM Network applications.
RoHS Compliant
Low Insertion Loss
High Channel Isolation
Highly Stable and Reliable
Wide Operation Wavelength Range
PARAMETERS¹²
VALUE
Pass Channel Wavelength Range (nm), λP
1530~1600
Reflection Channel Wavelength Range (nm), λR
1270~1350
Insertion Loss (dB)
Com-Pass
≤0.6
Com-Reflection
≤0.5
Standard Isolation (dB)
Com-Pass @λR
≥30
Com-Reflection @λP
≥12
Return Loss (dB)
≥50
Directivity (dB)
≥50
Polarization Dependant Loss (dB)
≤0.1
Pass band Ripple (dB)
≤0.3
Fiber Type
SMF-28e, 250µm bare fiber
Package Dimension (mm)
5.3mm(Ø) x 35(L) for bare fiber
5.5mm(Ø) x 40(L) for 900µm Loose tube
Operating Temperature (°C)
0~+70
Storage Temperature (°C)
-40~+85
Notes:
1. The tested performances do not include connectors.
2. For a device with connectors, IL will be specified 0.3 dB higher and RL will be 5dB Lower.
3. Specifications may change without notice.
Bi-directional WDM Systems
Cable TV (CATV)
Metro Networks
FTTx