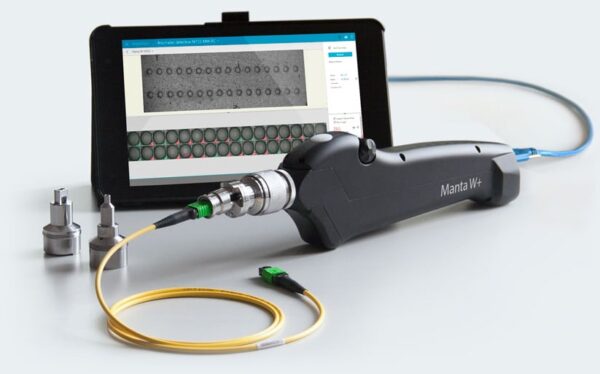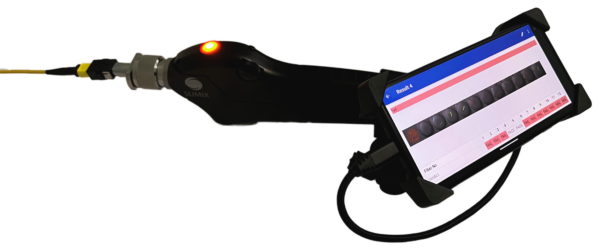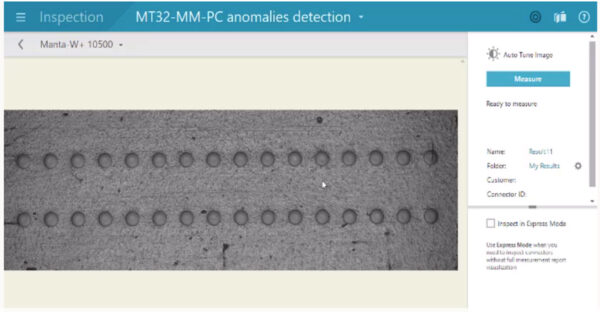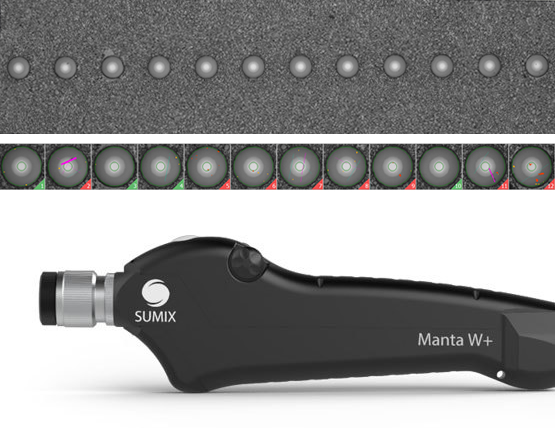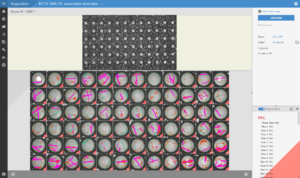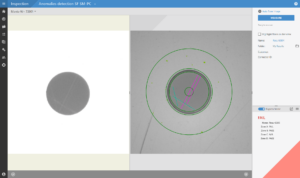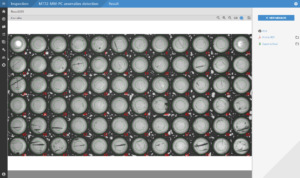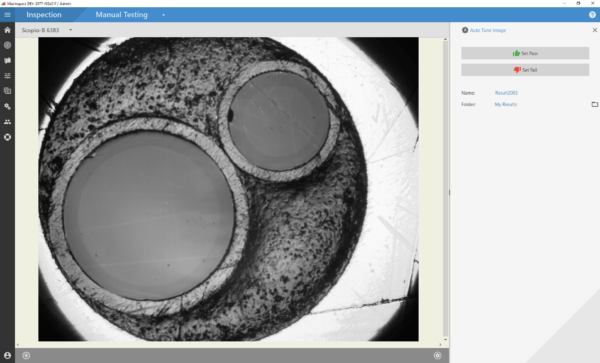 MANTA W+ Inspection Scope
MANTA W+ Part Number: SMX-MANTA-W+
4.1mm x 3.omm field of view
0.75μm defect detection
Fast inspection speeds
Evaluation units available.
Email us at sales@senko.com or talk with your local SENKO Sales Representative for pricing.
The MANTA W+ inspection scope is designed for high performance inspection for single fiber and multi-fiber optical assemblies. There is a large portfolio of inspection tips for the MANTA W+ available for all types of connectors, ferrules and optical transceivers including MT, MPO, CS, SN, SN-MT, LC, SFP, FC, SC, E2000, QSFP, OSFP, ELSFP, ARINC, multiple sizes of MIL 29504 termini, SMA and many more. The MANTA W+ is able to do a full inspection and reporting of a 12 fiber and 16 fiber MT array in 2 seconds. The MAXINSPECT inspection software has an autofocus feature for accurate and repeatable inspections. The software default is set to IEC 61300-3-35 and has the ability for customizing the pass-fail measurements for customized reports and for addressing the inspection needs for specialty fibers like PM fiber, multicore fiber, mixed fiber arrays and more.
Senko Part Number:
SMX-MANTA-W+
Field Of View:
4.1mm x 3.0mm
(Tips available for viewing guide pins/guide pin holes for MT)
Defect Detection:
0.75μm
Image resolution:
1.8μm
Inspection Times:
1 sec for single fiber

2 secs for 12 fiber MT

2 secs for 16 fiber MT

4 secs for 24 fiber MT

8 secs for 72 fiber MT

Reporting Options:
Auto focus and manual focus

Auto pass-fail with indicator light

IEC 61300-3-35 Ed 2 and Ed 3 Reporting (Default)

Customized inspection criteria, lighting profiles and fields of view

Inspection profiles for large core, multi core, Polarization Maintaining (PM) fibers

Operating Systems:
Windows

Android (mobile devices)

Dimensions:
77mm (3″) height
28mm (1.1″) width
249mm (9.8″) length
Weight:
491g (1.1 lb)
BENCHTOP STAND
Senko Part Number:

MNT-STAND-W

MOBILE INSPECTION KIT
Senko Part Number:

MNT-PHONE-KIT

SINGLE FIBER TIP ADAPTER
Senko Part Number:

MNT-ADP

MPO POLARITY MODULE
Senko Part Number:

SN-MT POLARITY MODULE
Senko Part Number:

SN-MT-VERIFIER

VERIFICATION ARTIFACT Senko Part Number:

MNT-REF-2.5/PC-1UM
Click the link to access the PDF handout for part numbers and images of the inspection tips.