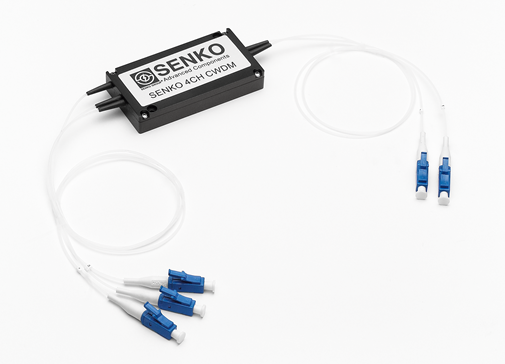 Compact 4CH/8CH CWDM Module
SENKO's Compact Coarse Wavelength Division Multiplexer (CWDM) is based on Thin-Film-Filter and Micro-Optics, this product features small form, ultra low loss and high channel isolation. This technology is a lead-free packaging platform with high reliability.
RoHS Compliant
Small Form Factor
High Repeatability
Ultra Low Insertion Loss
PARAMETERS
VALUE
Channel Spacing
20nm, ITU Grid
Channel number can be decided when ordering
Passband Bandwidth (nm) @ -0.5dB
± 6.5
Insertion Loss (dB)1 2 @ Pass Band
4CH CWDM
≤1.0
8CH CWDM
≤1.5
Pass Band Ripple (dB)
≤0.5
Isolation (Demux) (dB)
Adjacent Channel
≥30
Non-Adjacent Channel
≥40
Return Loss (dB)
≥45
Directivity (dB)
≥50
Polarization Mode Dispersion (dB)
≤0.2
Polarization Dependant Loss (dB)
≤0.2
Fiber Type
SMF 28e 250µm fiber
Package Dimension (mm)
44(L) × 38(W) × 6(H)
Operating Temperature (°C)
0~+70
Storage Temperature (°C)
-40~+85
Notes:
1. The tested specifications do not include connectors.
2. For module with connectors, IL will be specified 0.3 dB higher and RL will be 5dB Lower.
3. Specifications may change without notice.
WDM Systems
Metro Networks
Local Area Networks (LAN)