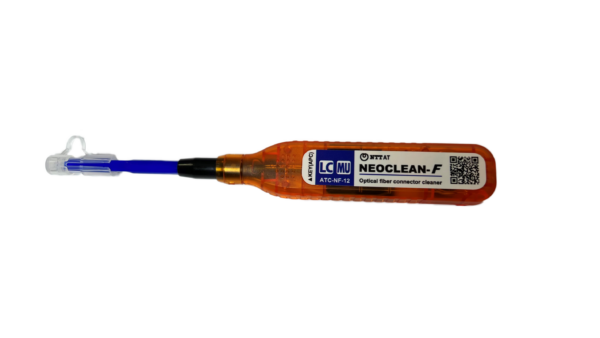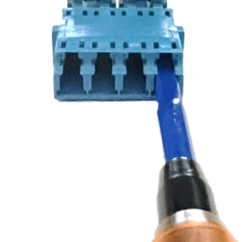 NEOCLEAN F 1.25MM
NEOCLEAN F 1.25MM is an effective option for cleaning residues and dust from the end faces. This cleaner is good for >1000 cleanings and works on both in adapter and unmated LC, MU and IP-25 connectors. The cleaner is good option for ferrule based optical transceivers with the LC interface including SFP+, QSFP-DD and OSFP. The NEOECLEAN F 1.25MM housing is transparent to make it easy for the operator to see the remaining amount of cleaning strand on the pay off spool.
1000 cleanings
Blue color coded barrel
Compact housing
Part Number:
SCK-SS-F125
Number of cleanings:
1000 end faces
Applicable Connectors:
LC, MU, IP-25

Ferrule Stub transceivers including SFP+, QSFP-DD, OSFP

Dimensions:
L = 163mm (6.4″)
H = 22mm (0.9″)
W = 15mm (0.6″)
Weight:
20g (0.04lbs)
NTT AT Number:
ATC-NF-12

Hyper scale data centers

Network Installations

Fiber To The Antenna (FTTA)

Fiber To The Home (FTTH)
The first step is to remove the clear end cap from the bluie barrel of the cleaner. There is a hole in the cleaner's rear housing for securing the end cap while cleaning end faces in an adapter. The next step is to insert the cleaner into the adapter port and push it forward until you hear the audible click.
No. The NEOCLEAN F 1.25MM cleaner uses a woven cleaning strand to wipe the contact zone of the ferrule end face. The cleaning strand is effective at trapping and sweeping away both dust particles and residues.