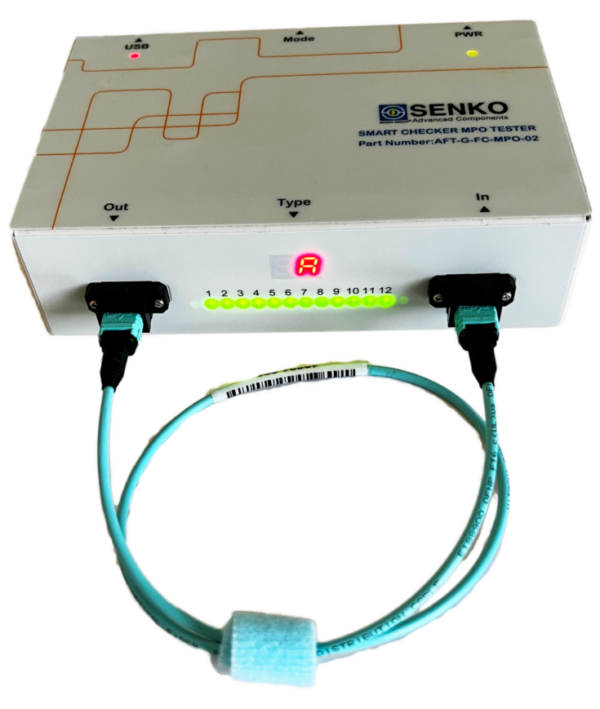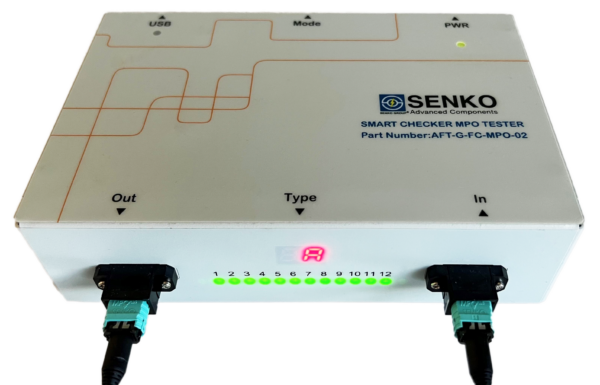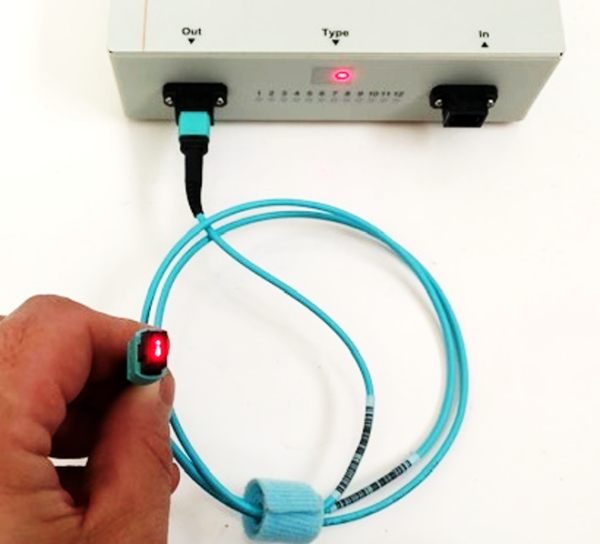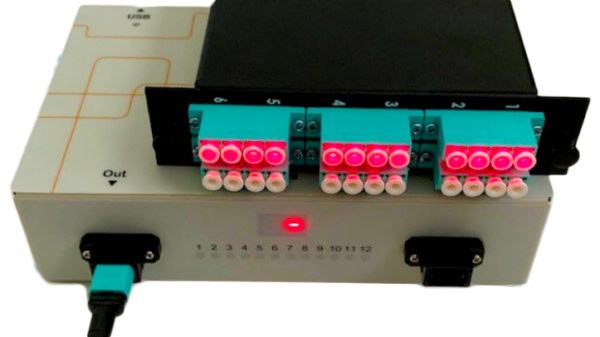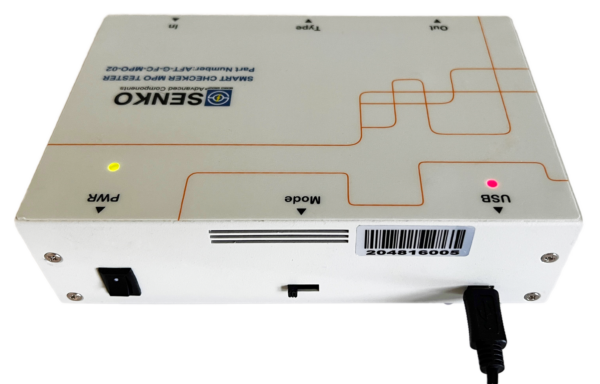 SMART CHECKER MPO TESTER 12 FIBER
SENKO Part Number: AFT-G-FC-MPO-02
< 2 sec test time
Polarity confirmation TIA 568 Method A, B, C
Verifies continuity of of each fiber
Works for flat and angled polished end faces
The SMART CHECKER MPO TESTER 12 Fiber verifies the polarity for 8F & 12F MPO assemblies to TIA 568 Methods A, B, C and the continuity of the individual fibers in the the MPO assembly. The tester will test both SM (angled) & MM (flat) MPO assemblies. The compact size, robust steel housing, highly stable light sources and rechargeable battery make the SMART CHECKER MPO TESTER 12 Fiber a must have for benchtop and field applications. The tester comes with a one year warranty for
SENKO Part Number:
AFT-G-FC-MPO-02
Applicable Connectors:
12F and 8F MPO
Dimensions:
L =170mm (6.7″) W = 110mm (4.3′) H = 47mm (2.0″)
Output ʎ:
650nm
Weight:
800g (1.8lb)
Output power:
<0.4 mW
Operation Modes:
Continuous Wave, Pulse, Scanning
Output Port Configuration:
Pinned male MPO
Battery Life:
5 hours of continuous service (full charge)
Input Port Configuration:
Pinned male MPO
0% to 100% Charge time:
< 1hour
OPTIONAL ACCESSORIES:
SENKO Part Number
Description

SCK-SS-MPO

SENKO SMART CLEANER MPO End face click cleaner

SCK-SS-MPO-GPB
SENKO Guide in hole brush cleaner

AFT-G-FC-A-J1
12 Fiber Launch Cable for Pinned (Male) MPO

→ Use for testing MPO cassettes and pinned (male) assemblies

→ L= 0.5M 12F unpinned MPO to 12F unpinned MPO

AFT-G-FC-A-J2
12 Fiber Extension Cable for testing unpinned assemblies

→ Use for extra reach testing assemblies with a unpinned MPO

→ L = 0.5M 12F 12F unpinned MPO to 12F pinned MPO

Network Installations

Fiber To The Home FTTH

Fiber To The Antenna FTTA and Distributed Antenna Systems DAS

Multiple Service Operators MSO

Military and Aerospace

Medical

Broadcast
The SMART CHECKER MPO TESTER comes with a one year warranty from the date of purchase. During the warranty period, SENKO will repair or replace any defective parts at no cost to our customer. Normal wear and tear, as well as damage caused by misuse or improper care, are not covered under this warranty.