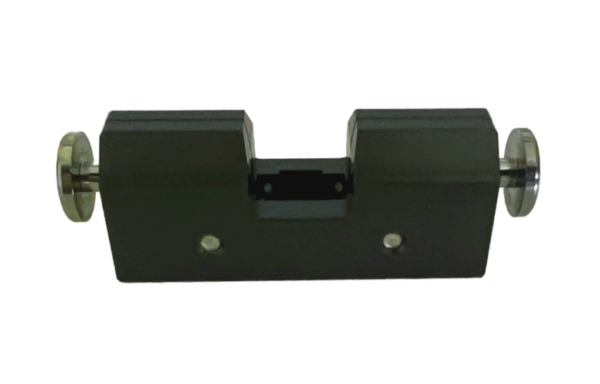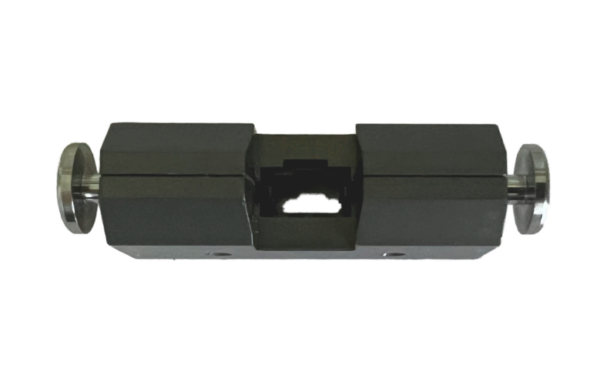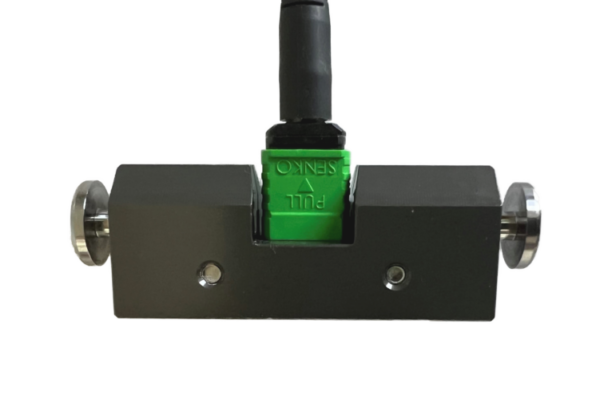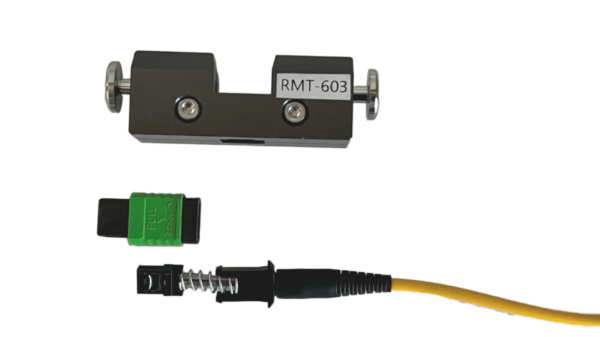 MPO HOUSING REMOVAL TOOL
SENKO Part Number: RMT-603
Works for center and offset key
Easy squeeze engagement
Robust metal housing
Email us at sales@senko.com or talk with your local SENKO Sales Representative for pricing.
SENKO'S MPO HOUSING REMOVAL TOOL makes it possible to remove the MPO connector housing from an assembly for making corrections to a finished assembly. The guide pin section of the tool is made to accept both centered and offset MPO housing keys. The tool's compact size and metal construction make it ideal for use on production lines, in test and engineering labs and at on site during a field installation.
The MPO housing can be flipped 180° for changing the assembly's polarity from a Method A (key up → key down) to Method B (key up → key up). The SENKO MPO HOUSING REMOVAL TOOL could be a time saver if a MT end face needed to be reworked or if the assembly needed to add or remove the MPO guide pins and holder for adjusting the MPO assembly's gender.
PART NUMBER:
RMT-603
APPLICABLE CONNECTORS:
MPO 8, 12, 24, 48 and 72 fiber (center housing orientation key)
MPO 16 and 32 fiber (offset housing orientation key)
DIMENSIONS:
L = 62mm (2.4″) including side pins
H = 20mm (0.8′)
W = 16mm (0.6″)
WEIGHT:
38g
(0.08 lbs)

Network Installations

Fiber To The Home FTTH

Fiber To The Antenna FTTA and Distributed Antenna Systems DAS

Multiple Service Operators MSO

Military and Aerospace

Medical

Broadcast
The process is easy and simple:
Insert your MPO connector into the SENKO MPO HOUSING REMOVAL TOOL.
Squeeze the two silver pins on the side of the tool. This will causing the MPO housing to come loose from from your assembly.
Gently slide the MPO housing back to make the desired adjustments to your MPO assembly.
Yes. The SENKO MPO HOUSING REMOVAL TOOL will accommodate MPO connectors from most suppliers including the MTP® connector. The process is the same. Insert the MPO connector, squeeze the pins and gently slide the MPO housing back to make the desired adjustments.
The SENKO MPO HOUSING REMOVAL TOOL has two hex head screws to keep the two parts of the tool together. If your MPO housing is stuck, use a 2.5mm CRV hex head (aka Allen wrench) and turn both screws a quarter of a turn to the ← left. This will loose the housing to release the MPO housing. Reverse the process by turning the screws to the → right to tighten up the tool's housing.
Tips for avoiding stuck MPO housings:
⊗ Do NOT over tighten the housing screws. Overtightening the screws will cause the MPO housings to get stuck.
⊗ Do NOT jam the MPO connector into the tool's opening. It will snap in and excessive forces will cause jamming.