SENKO Successfully Completes Accredited Third-Party Lab Generic Requirements (GR-326-CORE) Testing for the SN Connector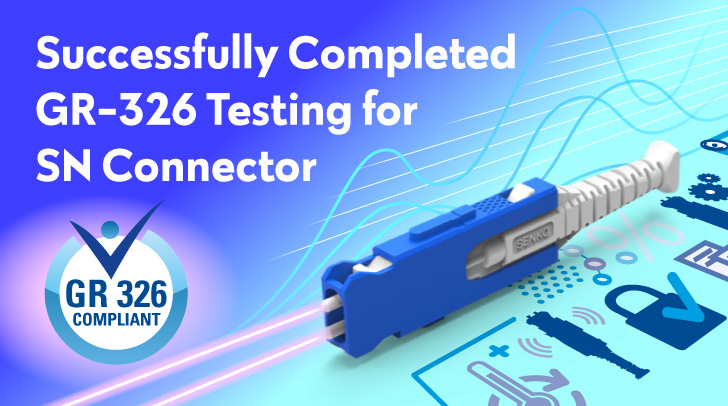 Hudson September 5
th
, 2023
— SENKO, a leading innovator in Very Small Form Factor (VSFF) connectivity, is proud to announce the successful completion of Accredited Third-Party Lab Generic Requirements (GR-326-CORE) Testing for the SN Connector. This achievement underscores SENKO's commitment to delivering dependable and robust VSFF solutions to the market.
The SN Connector, a flagship innovation by SENKO, has undergone rigorous testing to evaluate its performance and stability across various conditions. The GR-326 testing standard was originally written for Small Form Factor (SFF) and Large Form Factor (LFF) connectors, such as the LC and SC. However, despite being more than half the size of legacy connectors, the SN Connector successfully completed the 'Objective Level' mechanical load testing for SFF connectors outlined in the GR-326 standard. This level of performance reaffirms the connector's resilience and consistent functionality, even in demanding real-world scenarios and stress tests.
"We are delighted to share the news of the SN Connector's successful completion of GR-326 Testing," stated Phil Ward 'VSFF Strategic Market Manager' at SENKO. "This milestone showcases our team's dedication and expertise in developing reliable technologies. We are excited about the applications this connector continues to offer across multiple industries."
SENKO's accomplishment holds great promise, not only for the company but also for industries that rely on dependable connectivity solutions. The completion of Full GR Testing opens doors to diverse applications for the SN Connector, ranging from Enterprise Data Centers, Hyperscale Data Centers, FTTX applications, and many more.
As SENKO continues to lead the way in innovative solutions, the successful completion of Full GR Testing signifies a significant advancement. With a focus on providing trustworthy and effective products, SENKO remains committed to pushing technological boundaries while ensuring practical and tangible benefits.
For media inquiries and further information, please contact:
pr@senko.com
For more information about GR-326 Testing please read the following White Paper:

About SENKO
Senko Advanced Components Inc. is a wholly owned subsidiary of SENKO Advance Co., Ltd. which is headquartered in Yokkaichi, Japan. With 16 locations globally and dozens of design and manufacturing facilities providing local support to customers all around the globe. SENKO was incorporated in the United States in the early nineties and has since been recognized as one of the industry's specialists in passive fiber optic interconnects and optical components. To date, SENKO has deployed over 800 million connectors. 150+ patents awarded, with more than 300 patents pending.
For more information, visit https://www.senko.com/