SENKO and Wistron Collaborate on Innovative Connectivity Solutions for 51.2TB Near-Packaged Optics Switch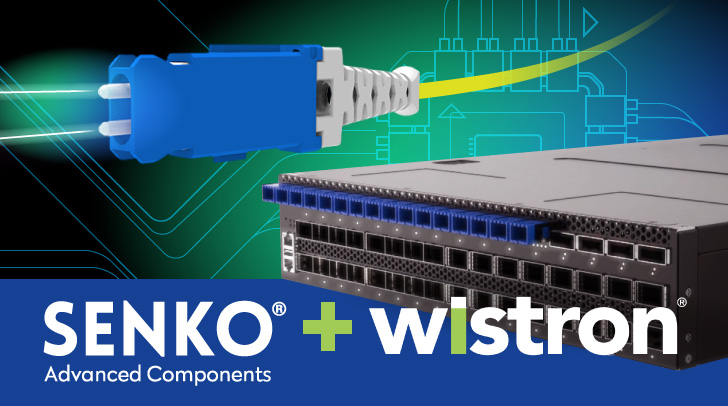 Taiwan, [October 17th 2023] — SENKO, a leading global manufacturer of optical interconnect solutions, is proud to announce its collaboration with Wistron, a prominent technology company, on the ground-breaking development of the latest NPO (Near Packaged Optics Switch) Switch CP-3183-128L. This revolutionary switch, boasting a colossal 51.2 TB capacity and optics featuring the Embedded Laser module and ELSFP Module (External Laser Source Small Form-Factor Pluggable), marks a new era in high-performance networking solutions.
Wistron has selected SENKO's SN connectors for the front panel of the NPO switch, demonstrating SENKO's unparalleled optical connectivity solutions. The NPO switch integrates OIF compliant optics with a single MCM substrate that supports 112G high-speed data transmission. The SN-MT connector is a versatile mid-board fiber connector that enables both embedded laser and external light source optics, saving space and enhancing workability for the CP-3183-128L switch. This platform will be showcased at the 2023 Q3 OCP event, highlighting Senko & Wistron's innovative capabilities and readiness for the next generation of networking applications.
"High-density optical solutions are the future of the data center industry. Wistron is dedicated to designing and demonstrating various and innovative combinations for NPO and CPO. We aim to overcome the system bottlenecks in power, reliability, and cost." said Anderson Chiu, General Manager of Networking Development, Enterprise and Networking Business Group of Wistron.
SENKO's integral role in designing connectivity solutions spans from the front plate to the mid-board, with a range of customized cable assemblies including the SN-MT4, SN-MT16 connectors, and the Base-2 SN Junior connector. SENKO's innovation extends to VSFF (Very Small Form Factor) connectivity solutions, addressing patch panels and structured cabling between switches and catering to the high-density miniature connectivity within the NPO switch and forthcoming ELSFP modules. Embracing sustainability as a guiding principle, SENKO's SN and SN-MT connectors provide operators with a highly sustainable roadmap to next-generation data rates.
"SENKO is thrilled to announce our ground-breaking collaboration with Wistron on the revolutionary NPO Switch CP-3183-128L. This partnership showcases SENKO's leadership in optical connectivity solutions and our commitment to driving innovation in high-performance networking," said Jim Hasegawa, Executive Vice President at SENKO.
Furthermore, the collaboration aligns seamlessly with Wistron's sustainability initiatives, having garnered numerous awards in recognition of their commitment to environmentally conscious practices. The alliance signifies a shared dedication to technological excellence and environmental responsibility.
The SN Connector, the cornerstone of SENKO's success, has earned a reputation for exceptional performance and reliability. This connectivity solution, combined with the SN-MT connector, embodies SENKO's ethos of quality, innovation, and customer satisfaction. To date, SENKO has deployed over 800 million connectors, with more than 150 patents awarded and 300 patents pending.
For more information about this collaboration and SENKO's innovative optical interconnect solutions, please contact:
About Senko
SENKO is a leading global manufacturer of optical interconnect solutions. The company was founded in Japan in 1947 and has since expanded to become a global provider of innovative optical solutions for the data center, telecom, and industrial markets. SENKO's product portfolio includes optical connectors, fiber optic cables, optical splitters, and other optical components.
With a commitment to quality and customer satisfaction, SENKO has earned a reputation as a trusted partner for optical interconnect solutions. The company's solutions are used by some of the world's largest data centers and telecom providers, and SENKO is recognized as a leader in the industry for its innovative technology and exceptional customer service.
SENKO's global presence includes locations in Asia, Europe, and North America, with manufacturing facilities in Japan, China, and Vietnam. The company's experienced team of engineers and technicians provides high-quality, reliable solutions that meet the needs of its customers.
At SENKO, we are committed to driving innovation in the optical interconnect industry and helping our customers achieve their goals with our cutting-edge technology and exceptional service.
To date, SENKO has deployed over 800 million connectors. 150+ patents awarded, with more than 300 patents pending.