SENKO announces robust, technology rich, Metallic PIC Connectors with increased Shoreline Density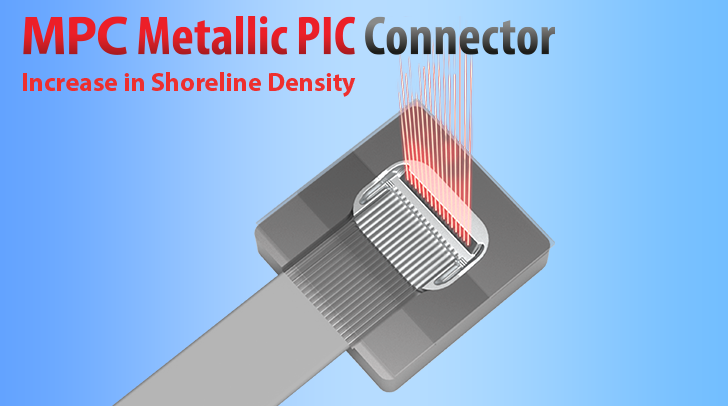 Hudson, MA October 2, 2023 –SENKO continues to realize its vision in becoming the global leader for optical interconnects. Today, the company introduces new cutting-edge high-density Metallic PIC connectors at ECOC. Metallic PIC connectors are constructed from stamped metallic optical benches. They include micromirror arrays for folding, focusing, or expanding light beams between optical fibers and photonic devices. Mirror designs are available in single-mode applications including polarization-maintaining fibers (PMF). Consequently, SENKO now has a family of technology-driven products that span the entire network, from the increasingly denser shoreline of Photonic ICs, outwards to the Switch faceplate and beyond to the structured cabling.
Patent-protected MPCs are manufactured using technology developed by SENKO's CudoForm Division, a proprietary stamping process that creates accurate microstructures in metallic optical components. Responding to critical industry challenges, 16-Fiber / 127 µm pitch and 20-Fiber / 127 µm pitch Metallic Optical Benches (MOB) have become the core component in Metallic PIC Connectors. Stamping provides a path for affordable and high-volume alternatives to polishing and diamond turning, and it improves robustness and reliability over plastic injection molded components. The MPC is also easy to assemble onto ribbon fiber. The compactness of the MPC allows alignment from the tiles of multi-chip modules to the Tx/ Rx ribbon cable in tight spaces without any dimensional tradeoffs creating an industry-leading robust opto-mechanical mating.
To further support customers, SENKO has partnered with leading cabling companies to qualify their termination and test procedures. This combination allows SENKO to provide reliable high-volume manufacturing. In addition to Co-Packaged Optics, applications include Next-generation Pluggable Transceivers and Custom Sensors.
For media inquiries and further information, please contact:
For more information about SENKO On Board Interconnect solutions (OBI) and CudoForm Technology please visit:
https://www.senko.com/solutions/on-board-optics/
About SENKO
Senko Advanced Components Inc. is a wholly owned subsidiary of SENKO Advance Co., Ltd. which is headquartered in Yokkaichi, Japan. With 16 locations globally and dozens of design and manufacturing facilities providing local support to customers all around the globe. SENKO was incorporated in the United States in the early nineties and has since been recognized as one of the industry's specialists in passive fiber optic interconnects and optical components. To date, SENKO has deployed over 800 million connectors. 150+ patents awarded, with more than 300 patents pending.
For more information, visit https://www.senko.com/