Wirewerks double density of NextSTEP 3-Series module with SN® connectivity from SENKO
Wirewerks' new NextSTEP™ 3-Series Breakout Module was developed specifically for SFP-DD/QSFP-DD/OSFP breakout applications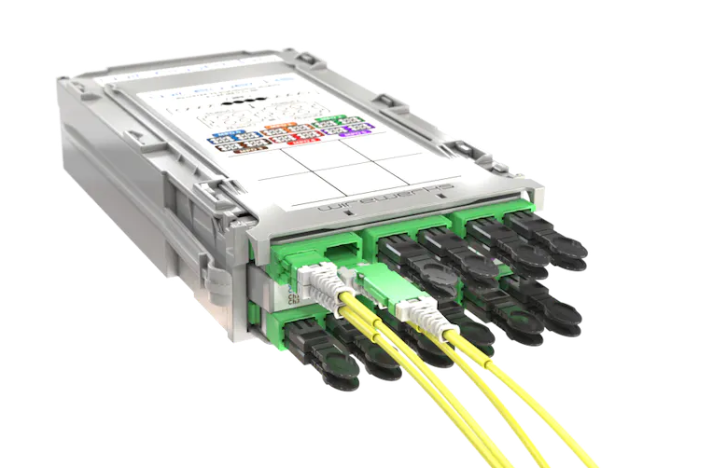 Montreal, QC. – [August 24, 2022.] – Wirewerks, a leading manufacturer of network connectivity solutions, launched the new 3-Series Breakout Module for their popular NextSTEP™ Fiber Management System. The new Breakout Module was developed specifically to simplify and optimize fiber management in high-density optical connectivity applications, including breakout applications for high-speed SFP-DD, QSFP-DD and OSFP transceivers.
The Breakout Module is a factory-terminated and tested slide-in module featuring six (6) rear-mounted MPO 8F connectors distributed to twenty-four (24) front-mounted duplex SN ports providing 24 x 2F breakout channels per module. Four (4) Breakout Modules can be mounted in a NextSTEP 1U Panel, yielding a total of 96 duplex SN ports over 192F per 1U. NextSTEP 1U Panels are 'stackable', allowing customers to create custom matrices of Breakout Modules to suit server port density.
Wirewerks ultra-low-loss CS/SN/MPO-to-MPO cable assemblies are used to connect the Breakout Module to up-stream high-speed transceiver ports, with Wirewerks ultra-low-loss SN/SN, SN/CS or SN/LC patch cords connecting the downstream breakouts.
Benefits of the 3S Breakout Module include twice the density of LC breakout panels, with only half as many duplex SN patch cords versus individual LC jumpers for easier cable management. Additionally, transceiver upgrades are simplified — just plug in the new transceiver and connect the appropriate Wirewerks cable assembly to complete 4F to 8F transceiver migrations.
According to Edouard Tabet, Wirewerks VP of Engineering, "The new Breakout Module simplifies multi-lane, multi-channel transceiver breakout, simplifies transceiver upgrades, and supports advances in server port densification. Our customers like simplification and densification in their networks."
SN® is a Registered Trademark of Senko Advanced Components, Inc.
NextSTEP™ is a Trademark of Wirewerks
About Wirewerks:
Wirewerks is a global manufacturer of advanced optical fiber and copper connectivity solutions that can deliver even under the toughest supply chain conditions. Our strong culture of collaboration is present in all the areas of our business – from project pre-design to network deployments and ongoing support, we collaborate with our customers to provide the crucial cabling infrastructure necessary for their mission critical networks. We also work in partnership with an extensive network of distributors, consultants, and authorized installers to provide end-users with the best networking solutions and the best value in the industry today.
Contact: Jess Dadoun – Manager, Marketing & Communications
Wirewerks
(1-888-993-4237×249)
Senko Advanced Components, Inc.
(+1-508-481-9999)
Contact Person – Simone Baldassarri, Marketing Manager